When it comes to choosing the right partner to get into romantic relationships, people's preferences often vary.
For Arinze Amobi, being respectful is very important to him. The Nigerian lawyer recently took to a closed Facebook group to share his thoughts about the kind of woman he wants.
In the post, Amobi stated that he would rather marry a "respectful and teachable illiterate' than a disrespectful literate woman.
In his words:
"As a man, I will much rather marry and spend my life with a teachable, submissive and respectful illiterate than spend a day with a disrespectful literate woman. Most sincere men will agree with me on this."
See screenshot of his post: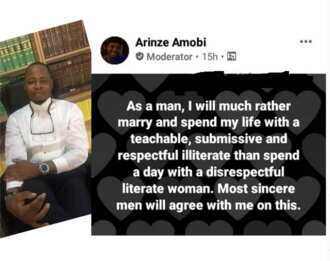 Submit News/Gist To Us