Igbo for President Solidarity Congress (IPSC), a group in the southwest, has solicited support for the presidency from the southeast in 2023, saying this will sustain the harmony and indivisibility of Nigeria.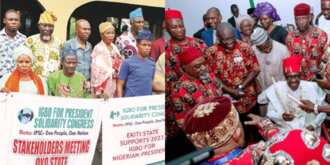 The group made the call on Tuesday, September 29, in Ibadan, Oyo state's capital through its national president Dr. Olukayode OshinAriyo.
The IPSC group argued that in consonance with "federal character principle as entrenched in 1999 Constitution" southeast should be allowed to rule Nigeria.
The group also called for the implementation of the 2014 nation confab, saying this would allow proper restructuring that will give all zones equal right to the presidency.
In IPSC president's words:
"As sons and daughters of Oduduwa, having iron cast faith in unity in diversity, believing that Nigeria was founded by the consciousness of God and trusting that Nigeria will bounce back to become just, peaceful and egalitarian nation free of wants, diseases, poverty, corruption and insecurity, hereby proclaim that for the sake of peace, unity, justice and equity, we wholeheartedly support Nigerian president of Igbo extraction come 2023.
"A man or woman of Igbo extraction as Nigerian president will be a nationalist, cerebral leader with analytical minds to proffer the surest solution to multi-dimensional socio-economic and political challenges, confronting Nigeria as a nation.
Submit News/Gist To Us