Actress Jennifer Aniston Bashed For Post About COVID-19 On Social Media
When the coronavirus hit the world, many people were devastated and affected in more than one way.
Many people lost their lives after testing positive for the novel COVID-19, while others lost their jobs, businesses and other important things.
With all that came with coronavirus, many people have been praying and hoping the virus goes away.
Quite a number of people do not even want to remember the pandemic at all as it brings bad memories and feelings to them.
However, it seems some people want to remember the pandemic despite the majority's take and actress Jennifer Aniston just learnt her lesson the hard way following her "out of touch" move.
The former Friends actress recently received a thorough bashing from the online community after celebrating a Christmas ornament that casually has words that read;
"Our first pandemic 2020."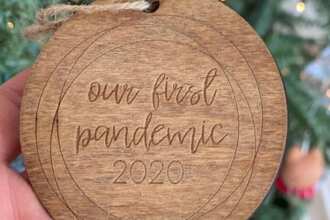 The actress posted the photo of an engraved circular wooden ornament on her Instagram stories on Christmas Day, something that did not settle down well with many people.
She may have posted it with innocence but it brought her a serious troll with many people condemning her for celebrating a tormenting experience.
"All celebrities have done during this pandemic is show how out of touch and just f—ing oblivious they are to anything that doesn't have to do with them," a random tweep complained as he shared screenshots of Aniston's photo.
A lady who goes by the name Pacho on Twitter bashed the actress silly saying;
"Jennifer Aniston is a damm fool for posting that ornament on her story, celebrities are ditzy af,"
Pacho went on to add;
"'Cheers to our first pandemic of 2020, where millions of people died! Let's celebrate that on a Christmas ornament!''